Reassessment notices for properties in Proviso were mailed to property owners on August 31, 2020. Property valuations in Proviso have been adjusted, when appropriate, with a COVID-19 Adjustment based on our Office's estimates of economic effects of COVID-19.
Note: Due to a processing error, some single-family home parcels did not receive the COVID Adjustment calculated for homes in their neighborhood. The Assessor's Office will correct this processing error automatically. Affected taxpayers do not need to take any action. Read more here (Español).

For details on Proviso's real estate market and reassessments, read the full reports below.
Residential Report:
| Property type | Property count | Median 2019 Sale Price | Median COVID Adjustment | Median 2020 CCAO Estimated Fair Market Value | Median change in 2017-2020 CCAO Estimated Fair Market Value |
| --- | --- | --- | --- | --- | --- |
| Single-family homes | 37,650 | $215,000 | -10.1% | $204,030 | 21.4% |
| Condos (class 2-99) | 4,097 | $130,000 | -10.1% | $91,120 | 15.4% |
| Apartments of 2-6 units | 4,142 | $275,450 | -12.6% | $267,570 | 13% |
Read the full 2020 Proviso Residential Reassessment Report for more real estate data, COVID-19 adjustments, and reassessment data for each neighborhood.
Interactive Map: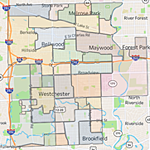 Find your neighborhood, and data about single-family homes in Proviso, on the interactive map.
number of homes and most common type of single-family homes in each neighborhood
sale data for each neighborhood
assessment data for each neighborhood
note: to see COVID-19 Adjustments for each neighborhood, please read the full Proviso report.

For more details on how COVID-19 Adjustments were calculated, see our report.
Commercial Report:
637 apartment buildings
320 office buildings
1,333 commercial/retail buildings
679 industrial buildings
Commercial and multi-family (apartments) have seen stable growth over the last three years due to a low interest rate environment, increasing rental rates, and capitalization rate compression. Additionally, demand for large industrial parcels has contributed to an overall growth in industrial properties.
Read the full 2020 Proviso Commercial Reassessment Report for more real estate and assessment data about initial estimates of commercial property values.
Events for Proviso Homeowners
The Assessor's Office staff host virtual events with the public to provide information and answer your questions about reassessments and appeals. See the full list.
Appeals
If you are looking to file an appeal of your property's assessment, we encourage you to file online. The appeal deadline for Proviso is October 5, 2020.
For assistance, you can contact the CCAO's main office, or the office of Proviso Township Assessor Zawaski.
Where do I find my PIN?
Your 14-digit Property Index Number (PIN) is printed on your tax bill, your property closing documents and deed, and notices from the Assessor's office (such as your assessment notice).