How Commercial Properties Are Valued
Legal Obligation
Our legal obligation is set by two statutes:
Illinois Tax Code: Our duty is to determine "fair cash value" (or what most of us call fair market value) for Cook County properties on a triennial basis
Cook County ordinance: Assess at 10% for residential and apartments and 25% for most other commercial properties
Commercial Assessment Methodology
Here are some details about the methodology behind our income-based approach.
Mass appraisal vs. investment appraisal
Mass appraisal - used by the Cook County Assessor's Office - is different from investment appraisal, which is used by most investors.
Mass appraisal
Determines the average levels for the inputs of valuation, rents, vacancy, expense ratio, cap rates
Applies those averages uniformly to similar properties in similar neighborhoods to create individual values
Investment appraisal
Determines the unique characteristics of a property
Uses those unique characteristics to determine a specific, not average, value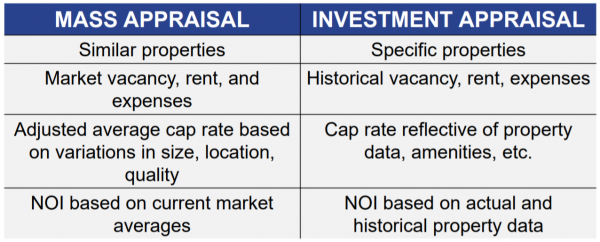 Data Sources
We use CoStar, Trepp, CBRE, Cushman and Wakefield, JLL and other professional market data providers as we research the current market rents, vacancy, expenses, and cap rates. In addition, we do qualitative interviews with local brokers, appraisers, and building owners for insights. 
Loaded vs. unloaded cap rates
Our office uses an unloaded cap rate when assessing commercial properties. Other jurisdictions use a loaded cap rate. Our office is occasionally asked why we don't. Let's start with definitions:
Unloaded: Net income after real estate taxes are capitalized by the market cap rate.
Loaded: Net income before real estate taxes are capitalized by a loaded cap rate. Loaded cap rates are the market cap rate for a property plus the appropriate tax rate for that property.
The simple answer is Cook County's tax rates are not fixed; they change based on local levies and equalized assessed value. It's not possible to predict taxes without knowing the levy or rate on the date of assessment (January 1st). 
Rates are determined more than a year later and taxes are paid as much as 18 months later. Loading a cap rate would be speculative rather than being reflective of the market. Therefore, we consider taxes paid by a property owner to be part of the expenses of a property. 
The International Association of Assessing Officers recommends either accounting for taxes as an expense or loading it into the cap rate in an income-based approach.

Note: Illinois Tax Code does not make a recommendation for loaded versus unloaded cap rates.
If all properties know and agree on what is the fair tax rate for a property, using an unloaded or loaded valuation methodology will generate exactly the same result. Here's an example: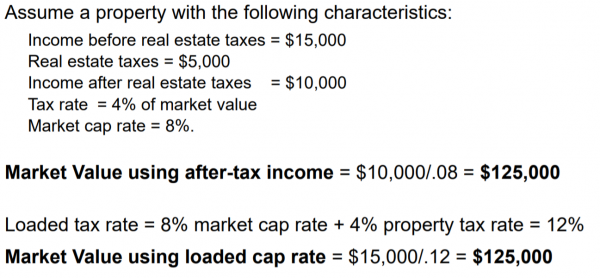 2019 Valuations Reports 
The township-level reports containing information on the data used in our commercial valuations can be found in our Valuations Reports section.
Upcoming changes and innovations
In 2020, the Assessor's Office will make changes and improvements to its commercial assessment work. 
We will launch a Market Advisory Council made up of private sector market participants to offer feedback on cap rates and other methodology used in commercial assessment.
For the first time in several years, the Assessor's Office will produce an annual report with extensive information on our methodology, assessments, and market data. We will also create updated township-level reports on the North Suburban assessments with post-appeals data and changes from the Board of Review. In addition, we will publish a range of cap rates across various classes and property types. See Reports.
In early 2020, we will launch an online Real Property and Expense (RPIE) tool. We will ask market participants to provide commercial income, expense, and vacancy information. This will ensure better bulk data on a local level, which will help us create more accurate, fair assessments without having to rely solely on appeals data. See RPIE.
Finally, commercial property owners will be able to submit appeals online with supporting documentation. This will be launched in February 2020. Appeal online. 
Where do I find my PIN?
Your 14-digit Property Index Number (PIN) is printed on your tax bill, your property closing documents and deed, and notices from the Assessor's office (such as your assessment notice).