How Residential Property Is Valued
The job of the Cook County Assessor's Office is to calculate a fair market value for your property. In calculating fair market value for residential properties, we consider what the fair cash value would be for your property if it had sold recently in its reassessment year. For residential properties, your property's assessed value equals 10% of its fair market value, per Cook County ordinance.
The Assessor's estimate of your home's fair market value is based on two things: your home's characteristics, and patterns between how other homes' characteristics affected their sale values. We use recent sales of homes similar to yours, in and around your neighborhood, to estimate your home's value. Homes more similar to yours, or closer geographically to yours, make more of a difference in our calculation than other homes.
Because sale values of homes are affected by their characteristics - such as its square footage, age, and location - we use statistical modeling to use those characteristics to produce property values for each home. Our assessment models consider several different characteristics of homes including, but not limited to, land, location, building square footage, and construction type.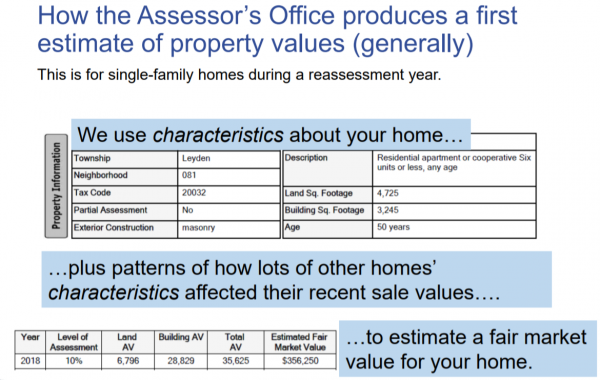 We released a more detailed explanation of how this works here. We also released all the code for our residential models publicly on GitLab, a platform that hosts open source data. You can view our modeling pipelines for single-family homes, and for condos. You can also review our models and the results of our model on the Cook County Open Data Portal here.
Where do I find my PIN?
Your 14-digit Property Index Number (PIN) is printed on your tax bill, your property closing documents and deed, and notices from the Assessor's office (such as your assessment notice).