Riverside COVID-19 Adjustments
After Reassessment Notices were mailed to property owners on February 11, 2020, the CCAO determined it was appropriate to adjust residential and commercial assessed values for the economic effects of COVID-19, when appropriate.
On July 14, 2020, the CCAO mailed letters to Riverside property owners informing them of any adjustments to their property's Assessed Value due to COVID19. These values are also updated in the CCAO's database of each property's details.
Here is an example of a letter (click to view full size):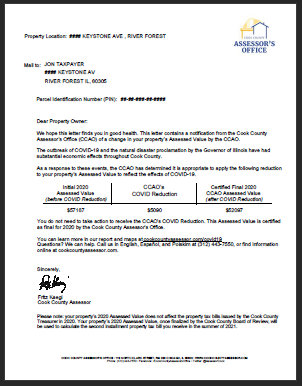 To learn about how COVID adjustments were calculated, please see the COVID-19 Report for the South and West Suburbs.
Where do I find my PIN?
Your 14-digit Property Index Number (PIN) is printed on your tax bill, your property closing documents and deed, and notices from the Assessor's office (such as your assessment notice).