Reassessment notices for properties in Lemont were mailed to property owners on May 27, 2020. The property values on this notice have been adjusted, when appropriate, with a COVID-19 Adjustment based on our Office's estimates of economic effects of COVID-19.
For more details, read the full reports below.

Residential Report:
| Property type | Property count | Median 2019 Sale Value | Median COVID Adjustment | Median 2020 CCAO Estimated Fair Market Value | Median change in 2017-2020 CCAO Estimated Fair Market Value |
| --- | --- | --- | --- | --- | --- |
| Single-family homes | 7,447 | $385,000 | -10.8% | $373,365 | -1.3% |
| Condos (class 2-99) | 232 | $236,450 | -10.8% | $146,110 | -17% |
| Apartments of 2-6 units | 142 | $236,900 | -13.3% | $266,230 | 3% |
Read the full 2020 Lemont Residential Reassessment Report for more real estate data, COVID-19 adjustments, and reassessment data for each neighborhood.
Interactive Map: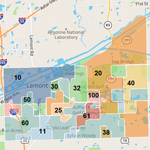 Find your neighborhood, and data about single-family homes in Lemont:
number of homes and most common type of single-family homes in each neighborhood
sale data for each neighborhood
assessment data for each neighborhood
note: to see COVID-19 Adjustments for each neighborhood, please read the full Lemont report.

For more details on how COVID-19 Adjustments were calculated, see our report.
View the interactive neighborhood map here. It contains data about sales and initial estimates of property values.

Commercial Report:
41 apartment buildings (larger than 6 units)
62 office buildings
183 commercial/retail buildings
43 industrial buildings
The Lemont Commercial Properties reassessment report contains details about the COVID-adjusted cap rates used to produce CCAO estimates of Fair Market Values.
Appeals
If you are looking to file an appeal, we encourage you to file online. The appeal deadline for Lemont is July 2, 2020.
For assistance, you can contact the CCAO's main office, or the office of the Lemont township assessor.
How often is my property reassessed?
Cook County is reassessed triennially, which means one-third of the county is reassessed each year. This year, the south suburbs will be reassessed. Your property may also be reassessed if there are significant changes due to a permit application, property division, demolition, or other special application.