2019 North Suburban Reassessment Reports
In 2019, properties in the North Suburb townships were reassessed. For each township, we produced an interactive map as well as reports about changes in the real estate market and about reassessed values for residential and commercial properties.
2019 North Suburban Reassessment Report
This report contains a summary of the Assessor's work following the completion of the triennial reassessment of the north suburbs in 2019. This report covers:
property valuation and assessments
comparison to real estate data
self-study of assessment accuracy, uniformity, and equity
information about property tax exemptions and incentives
accounts of over 200 meetings with property owners throughout Cook County
property tax analysis following the triennial reassessment of the north suburbs in 2019 (which affected property tax bills issued to homeowners in summer 2020)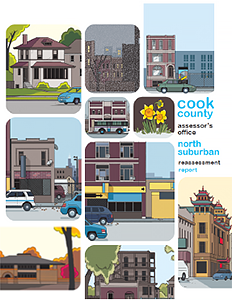 2019 North Suburbs Re-Assessments
The CCAO published the following reports when property owners in each township were mailed reassessment notices, which contain the CCAO's initial assessed values.
Norwood Park
Evanston
New Trier
Elk Grove
Maine
Northfield
Barrington
Leyden
Wheeling
Palatine
Schaumburg
Niles
Hanover
Where do I find my PIN?
Your Property Index Number (PIN) is printed on your tax bill, your property closing documents and deed, and notices from the Assessor's office (such as your assessment notice).